las vegas residential Electrician services
We are dedicated to providing the best electrical repair and installation services for our residential customers. You can count on One Hour Electric to get the job done right. Give us a call today and we will have an electrician at your door A.S.A.P.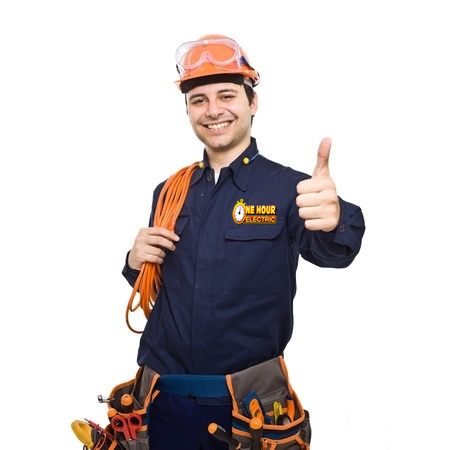 Residential Electrical Service in Las Vegas
Reliable electricity is a modern comfort that Americans have come to expect. Whether you're building a home or moving into a preexisting home, you must make sure that you have a safe and functional electrical system. For help with electrical repair and installation services in Las Vegas, turn to the electricians at One Hour Electric. We offer electrical panel inspections, ceiling fan installation, and many more residential electrical services in Las Vegas.
Common Electrical Services
There are a number of reasons why you might hire an electrical contractor. A skilled and experienced electrical contractor can assist you with the following tasks and ensure that your electrical system functions as well as possible.
New Construction Wiring: Wiring a home is a complicated undertaking that requires a professional's touch. If you're building a new home from the ground up, you'll need to hire an electrical contractor who has plenty of experience installing electrical panels, running wires through walls, and performing other delicate tasks.
Appliance and Fixture Installation: If you move into a preexisting home, you may decide that you want to install new outlets or a new ceiling fan. An electrician can install whatever appliances or fixtures you need.
Electrical Repair: There will come a time when some aspect of your home electrical system will fail. Dead outlets, warm light switches, and higher-than-normal electric bills are just a few problems you might face.
The Benefits of Hiring an Electrician
While there are many home improvement projects you can handle yourself, electrical installation and repair jobs are best left to the professionals. Before trying to perform electrical repairs yourself, consider the following benefits of hiring a professional.
Avoid Injury: If you're not sure what you're doing, you might suffer a severe shock while performing repairs. Electricians, on the other hand, have years of experience and know how to perform repairs without incurring serious injuries.
Enhance Safety: Improper installation could put you or the future owners of your home at risk. Having a professional install wires, appliances, and fixtures correctly can greatly enhance your safety.
Ensure Proper Function: Anything worth doing is worth doing right. Hiring an electrician to handle electrical matters can also prevent costly malfunctions and reduce the amount of money you spend on future repairs.
If you live in the Las Vegas area and are in need of high-quality electrical repairs, call One Hour Electric at (702) 323-0817. We have more than 20 years of experience providing residential electric service in Las Vegas, and we'll gladly take care of all your electrical needs.
Over 35 Years Reputation for Excellence
Our highly trained, licensed, insured, and experienced electricians will treat you and your property with the respect and attention to the safety you deserve. No matter what electrical services you need, we will ensure that you get fast and satisfactory results at a fair price.
My power went out due to an ancient breaker. They came out Thursday around midnight to fix it. Fantastic and friendly service that I would highly recommend!
Bryan S.
I was very impressed with the level of service and professionalism provided by One Hour Electric. Nothing worse than discovering you have no power when you get home from a long day. The electrician arrived within 2 hours of my initial call. He quickly identified the issue and completed the repair within an hour. Great job guys
Great electrician services! Excellent customer service and always on time! Would definitely recommend them to anyone!
Daniel C.